5 emerging local mobile news advantages for community publishers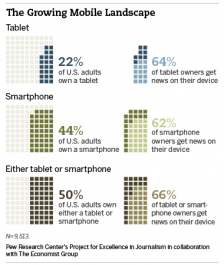 A new major Pew study of mobile news users offers context which could help community news publishers hone their mobile strategy -- despite that this research seems mainly intended to serve mass media daily news outlets...
In The Future of Mobile News, published this week, the Pew Research Center's Project on Excellence in Journalism offers evidence that news publishers should focus their mobile strategy on the mobile web, rather than downloadable platform-specific "native" apps.
This survey was quite large: from June 29-August 8, 2012, Pew surveyed 9,513 U.S. adults. The report compares this year's data to last year's, and spotted some fast-moving mobile news trends. The report doesn't specifically mention community news publishers or local news (although it does refer often to daily newspapers), but it holds some hidden insights for smaller venues if you read between the lines.
1. Mobile news is extremely popular. According to Pew: "Fully one third of all U.S. adults now get news on a mobile device at least once a week. 64% of tablet owners and 62% of smartphone owners say they use the devices for news at least weekly, tying news statistically with other popular activities such email and playing games on tablets and behind only e-mail on smartphones."
This rising tide has the potential to lift all boats in the news business -- but community news publishers may have some special advantages.
2. When news consumers go mobile, they usually get more news. Pew found that mobile devices typically increase news consumption. "More than four in ten mobile news consumers say they are getting more news now, and nearly a third say they are adding new sources."
That last sentence might be very good news for community, niche, or ethnic news venues, especially newer digital startups. According to BIA/Kelsey, earlier this year former Google exec (and now Yahoo CEO) Marissa Mayer revealed that 20% of all searches across Google properties are now seeking locally relevant information -- and for searches conducted on mobile devices, that figure doubles to 40%.
Predictions abound that between 2013-2015 the majority of U.S. internet access will shift to mobile devices. If the share of local searches on these devices continues to grow, then publishers of local and hyperlocal information may gain a significant mobile search visibility advantage. They may attract more new readers through popular aggregators such as Google News, and thus end up getting adopted as regular news sources by more mobile users.
Therefore, local or hyperlocal publishers that both offer a mobile-friendly website and also geocode their content (something that's becoming increasingly important in how search engines determine relevance, especially for mobile search) may be able to leverage mobile to grow their overall audience -- even moreso than mass media can accomplish.
As Knight News Challenge winner Ryan Thornburg observed earlier this year, major news outlets that serve a large region face significant accuracy problems with geocoding. This implies that venues which serve a smaller, more focused region might be able to geocode more accurately and reliably -- which in turn might enhance their mobile search visibility and performance, driving even more mobile traffic and attracting new regular readers.
3. Web browsers appear to be trumping apps for most mobile news users. "Overall, the majority of mobile news users get most of their news on mobile devices through browsers: 60% of tablet news users and 61% of smartphone news users," said Pew. "Less than half as many, 23% of tablet news users and 28% of smartphone news users, mainly go through apps. And 16% and 11%, respectively, say they use apps and the browser equally.
This should be a relief to smaller new publishers, who typically have smaller budgets and fewer technical resources than mass media news outlets -- and who typically have not yet invested much in building platform- and device-specific news apps (unlike many daily and national news venues).
Compared to apps, the mobile web is a far simpler and cheaper publishing option. Also, the mobile web is inherently cross-platform. It offers connectivity advantages, too. Inbound story links open quite reliably in a mobile website, but far less reliably in mobile apps -- even when the recipients of news links have the appropriate news outlet apps installed on their smartphones or tablets.
Pew found that Apple device owners tend to have, and use, the most mobile news apps. However, Apple's dominion over the U.S. mobile market is diminishing fast. The iPad's share of the U.S. tablet market is shrinking rapidly (52% this year vs. 81% last year). Similarly the iPhone currently claims only 38% of the U.S. smartphone market, compared to Android's 46%.
4. Smaller tablets, bigger influence. Pew found that in the past year the share of U.S. adults who own a tablet device doubled to 22%. "The advent of the new lower-­priced tablets in late 2011 brought in a new crop of tablet owners."
Nearly half (48%) of tablet owners have an Android tablet; and about half of these (21%) are Kindle Fires.
Many popular Android tablets cost half or less the price of an iPad. The least expensive iPad 2 costs $500 -- but the new Kindle Fire starts at $159, the Barnes & Noble Nook tablet starts at $179, and the Galaxy Nexus 7 tablet starts at $199. Consequently, smaller tablets may become a key tool for bridging the digital divide in low-income segments of your community -- and engaging them with local news, information, and civic concerns.
Still, the significance of this shift away from iPads in the tablet market may have as much to do with size as price. In the last year the U.S. tablet market has demonstrated a strong demand for smaller tablets. The iPad is simply too large for a typical purse or jacket pocket, which can hinder its usefulness to mobile users who prize portability.
This week many sources are reporting that on Oct. 17 Apple may finally introduce the long-rumored smaller iPad mini, to ship by early November -- a move that could help Apple remain relevant in a tablet market that isn't one-size-fits-all. But the strategic value of this possible Apple move could hinge on price: Google may counter Apple by offering a $99 Android tablet around the same time.
One thing is clear: smaller tablets have assumed an important and fast-growing role in the mobile market. Any news publisher must accommodate this form factor in the design of its mobile offerings. The days of "tablet = full-size iPad" are definitely over.
5. Mobile is shifting news demographics by ethnicity. Pew found that although blacks are about one third less likely than whites to own a tablet (14% vs. 22%), blacks also are substantially more likely to use their tablet to get news daily (56%) than whites (36%).
This stands in stark contrast to print news consumption patterns -- where whites (34%) are far more likely to be daily print newspaper readers, compared to blacks (24%) or Hispanics (13%).
U.S. Hispanics, while typically leading in ownership and usage of mobile devices overall, tend to parallel whites when it comes to mobile news consumption.
Pew notes that these demographic trends "may hint at something new. Perhaps tablets and smartphones, which provide ready access to news from any source at lower cost of entry than desktop computers, may translate into a powerful news consumption tool for populations that felt underserved by the media in legacy forms."
While that statement conflates ethnicity with class, it's a point worth pondering -- especially for news outlets that focus on serving poor or otherwise marginalized communities.
The Community News Leadership 3.0 blog is made possible by a grant to USC Annenberg from the John S. and James L. Knight Foundation.
The Knight Digital Media Center at USC is a partnership with the Annenberg School for Communication & Journalism. The Center is funded by a grant from the John S. and James L. Knight Foundation.