Local mobile advertising: what's ahead for 2013?
Last week, analysts from BIA/Kelsey took a look ahead at what 2013 might hold for local mobile media. Some of their anticipated trends could prove interesting, and perhaps lucrative, for community news and information sites that hope to turn mobile media into a revenue stream.
In a webinar presentation held Jan. 23, top BIA/Kelsey analysts offered these predictions, among others:
1. Local is taking over mobile ad revenues.
Michael Boland, BIA/Kelsey senior mobile, analyst, expects that half of the projected $4.2 billion in U.S. mobile ad revenues this year will come from localized campaigns -- the first year that local is expected to outpace national revenues in this fast-growing market. This represents a 57% increase over 2012's local mobile ad revenues. Also, BIA/Kelsey projects sustained growth in local mobile ad revenues over the next several years, reaching $5.8 billion by 2016 (58% of the nearly $10 billion total projected mobile ad market for that year).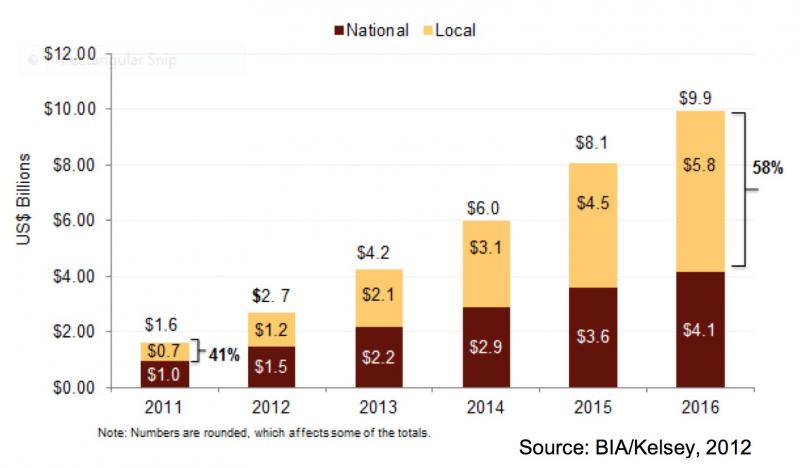 Boland attributes most of this expected growth to national brands investing in customizing mobile ad campaigns for local markets -- the topic of a Jan. 30 BIA/Kelsey webinar. This shift is "due to users' mobile local intent -- that is, 50% of mobile searches are local. Premiums on higher-performing mobile ads will also drive this local share shift."
Can smaller, independent community news startups get a piece of this action? Maybe, but there's a big hurdle to clear first. Right now mainstream daily news outlets (the digital/mobile components of newspapers and broadcast news operations) are better positioned to land, and deliver, big contracts with national brands for localized mobile campaigns. Until smaller community-based sites are able to band together effectively, perhaps through local mobile advertising networks, it's not generally cost effective for national advertisers to distribute ads on smaller community sites.
The faster community sites find an effective solution to this problem, the more likely they will be to reap a good share of this potential revenue. And for smaller sites with lower overhead, even a small portion of this revenue stream could go a long way toward fueling sustainability.
2. Content distribution networks: possible partners?
Jed Williams, senior analyst for social media, predicted that small and medium-sized businesses (SMBs) will increasingly turn to content distribution networks for local marketing and engagement. So far, CDNs (also sometimes called content delivery networks) have mostly been used to increased the speed and quality with which users can access online content. But some of these companies are adding distribution to local publisher networks to their mix of services.
For instance, LocalVox operates its own "local news network," which includes sites such as NYC Nearsay. This local "news" is actually marketing content from local businesses. Still, it's possible that community sites might be able to earn revenue by providing distribution for relevant content from networks such as this -- properly labeled as revenue-driven content, of course.
3. "Native advertising" growing potential -- and risks
The new ad industry buzzword for advertorials, and similar sponsored content, is native advertising. A recent foray into this ethically fraught revenue option dealt a substantial blow to the reputation of venerable Atlantic Monthly, which briefly ran (and then withdrew) a lengthy article written and paid for by the Church of Scientology. Critics claimed this advertorial was not only blatantly propagandistic, but also insufficiently identified as advertising. (The Atlantic remains committed to native advertising, but is reportedly refining its policies.)
More commonly, native advertising takes forms such as Facebook Sponsored Stories and Twitter Promoted Tweets, widely hailed (at least by the ad industry) as game-changing local advertising vehicles -- especially for mobile users of social media.
Williams of BIA/Kelsey predicted that native advertising will expand substantially to the local media market this year. While larger mainstream news outlets will undoubtedly be courted as native ad venues, it's possible that influential independent community sites may also be tapped.
"These formats will begin to be bought and sold programmatically, enabling larger, optimized buys and more precise targeting. As programmatic buying accelerates, it will encourage more local publishers to participate by opening up native inventory to contextually-targeted placement," said Williams.
There's probably good money in native advertising -- but it deserves very careful consideration. Now is the time for community sites to learn more about native advertising, and consider which types (if any) they might be interested in carrying -- as well as how to ensure that any native ads you might carry would be appropriate in the context of your mission, and offer value for your community.
4. More competition for long tail advertisers. Small local businesses and organizations often are a key class of advertisers for community sites -- often because daily mainstream news outlets have been declining in terms of their interest in and ability to serve this market segment. But watch out: they might be starting to up their game.
Charles Laughlin, senior analyst for directional media, said: "Newspapers that rely on big ad spends are increasingly vulnerable. So they're getting better at pursuing local and smaller advertisers."
But this could conceivably turn into a cooperative situation, not just a competitive one. It's possible that some major news outlets might cut deals with community sites to run syndicated ads. That is, the advertisers would contract with a newspaper, and those ads would be distributed across a network of community sites. If this model came to pass, it would be crucial for community sites to have a strong history of benchmarks to track engagement -- since ultimately that's what advertisers tend to value more than sheer numbers of eyeballs.
More insight to come. This March in Boston, BIA/Kelsey is holding a three-day conference on local media -- which will include local digital and mobile advertising trends, data, and opportunities.