Small site, big tools: Local nonprofit news site switches to Armstrong content management system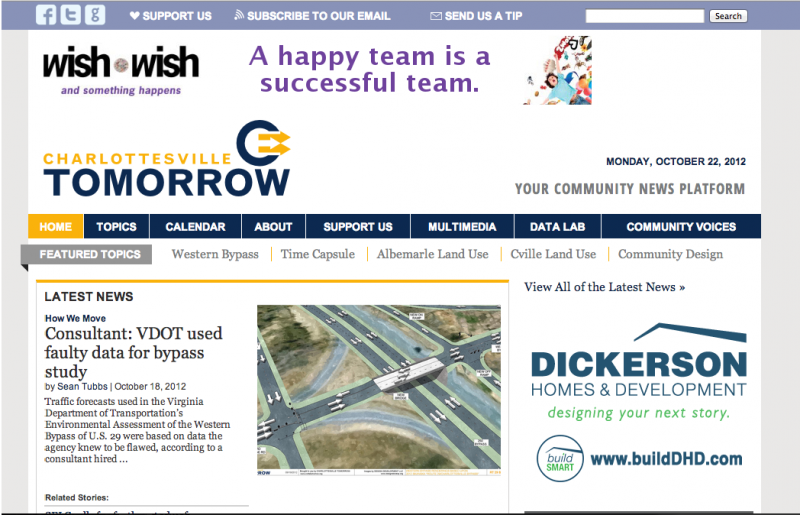 Like many who start an independent, online local news site, Brian Wheeler of Charlottesville Tomorrow chose one of the many free blogging platforms to get started with. Wordpress and Blogger remain popular choices for the publishers of independent local news sites, but TypePad, which Wheeler chose in 2006, had not aged well and was no longer competitive with content management systems like Wordpress.

At Block by Block, the largest annual gathering for publishers of independent local news sites, Wheeler asked, "If you were starting over, what platform would you use? They mentioned a few programming languages, and said, 'I guess you could use Wordpress.' Now, we came out of having a blogging platform, but I didn't want to migrate from one blogging platform to another."

Wheeler was intrigued by Armstrong, a new content management system (CMS) whose creation was initially funded by $1.1M by the Knight Foundation in March of 2011. Charlottesville Tomorrow is a Knight grantee as well, a winner of the Knight Community Information Challenge sponsored by the Charlottesville Area Community Foundation.

Armstrong was developed by two high-powered nonprofit news sites -- The Texas Tribune and The Bay Citizen. The Bay Citizen was funded by the wealth of financier and philanthropist Warren Hellman, a former CEO of investment bank Lehman Brothers whose philanthropic interests ranged from funding a popular bluegrass music festival to backing a new investigative news site for the San Francisco Bay Area in response to shrinking newsrooms. The Texas Tribune, too, had wealthy donors, and the organization took in $2.2 million in revenue from donors and other sources in 2010 alone.

Could a site with a more modest budget use Armstrong effectively, or would a CMS developed for sites with million-dollar donors be about as practical (and cost-effective) as using an F-16 to drop the kids off at school?

The Texas Tribune introduced Wheeler to Mouthwatering Media, an Austin, TX based web development firm that Wheeler selected to help build a new, Armstrong-based site for Charlottesville Tomorrow, and to migrate the site's seven years of articles, audio, and images to the new system.

"Now that we have it up and running, what I like about it is that everything's in a database -- with TypePad, there was no place we could go to look for a canned photo. We were hardcoding tables, captions -- we had to go in and tweak an object code for every file. Armstrong is structured around a news business -- it's structured around articles and photographers and contributors. What we have now is a much more robust platform that on the front end, users are going to love, and on the back end, it will cut in half the amount of time we spend laying things out."

Was the change difficult? "The challenge for us that I've reflected on a little bit was that we were going from a Volkswagen to a Lamborghini, and it's kind of like asking someone who's driven a VW all their life what they want in a new car," says Wheeler. "We didn't know what to ask for. Our development team was really patient with us, through that specification process."

Breaking down your vision for a site into something that a web developer can create is a common challenge, especially for news site teams who are doing it for the first time. [If you are facing this challenge, see KDMC's free e-learning modules "Attracting and Landing Tech Talent for Your Project" and the upcoming "Bulletproof Digital Project Plans for Mission-Driven Organizations."]. Wheeler mentioned the importance of going through the plan step by step: "They said, 'here's the data models we propose; here's the ones Armstrong already has, and here's what we propose to build.' Then they came through with wireframes for every part that we had to sign off on."

Some aspects of the site's operations aren't handled by Armstrong, says Wheeler. "We just changed our ad platform, which has made it really easy for us to place and rotate ads. Our email newsletter is still handled with iContact, and our donor database is still a third-party thing. But I'm okay with that because of the time that this publishing platform is saving me to take care of those things."

Now that the site is up and running, the Charlottesville Tomorrow team has been able to capitalize on what was already a strength for them: data. "We made a name for ourselves as the people who always have the documents and the audio," says Wheeler. Wheeler is such a familiar presence at public meetings that "I can look at the clerk a certain way during the meeting and she emails me the PowerPoint [that's being presented]." With the site's new content management system, "I can immediately convert that into a PDF and it'll go out along with the story that evening. Now we can focus on the value-added content and not wrestle with how to upload things. Plus, it looks really good."

This blog is made possible by a grant from the John S. and James L. Knight Foundation.