Block by Block: 3 years, important lessons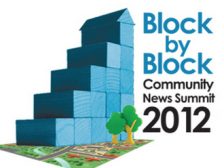 The Block by Block Community News Summit, a network of local news entrepreneurs , was born three years ago this month.
It wasn't yet called Block by Block, and it was more of an idea than a network. The idea? That the ground game of local online news was shifting but the dominant narrative hadn't caught up.
That narrative held that newspapers were in crisis (true) and that no other sources of quality local news were emerging. The second part didn't ring true: There were scattered examples of local online news start ups that were providing valuable coverage, some with the added twist of active community engagement that was often missing from newspaper professionals.
A few small nonprofit local news sites had launched before 2009 – notably MinnPost and Voice of San Diego. And I'd stumbled upon a few small, highly local for-profit community sites that were providing real value to their local readers – West Seattle Blog among them.
Part of the problem was that these sites were being judged through the prism of newspapers – daily, comprehensive, authoritative. I did not think that was a fair standard – certainly these sites were not trying to mimic or replace newspapers. Instead, most were trying to cover a small area - whether a town or neighborhood or a local niche topic - really well. So, in November 2009, as a fellow at the Reynolds Journalism Institute, I decided I would attempt to assess these through the prism of journalism – accurate, fair and committed to community - instead of judging them against newspapers.
I ended up with a list of more than 100 community news sites that met specific criteria – their content followed key journalistic practices of fairness, transparency and accuracy; they published several times a week; they sought to engage the community; and they were working seriously on generating revenue. It looked to me than, as it does now, like many of them had legs - not as replacements or competitors to newspapers, but as complimentary news providers. (Here is the list of sites as of the completion of my fellowship in June 2010. This version has not been updated but I am rebuilding an expanded list as a searchable database and it should be live in January.)
The sites were not well understood. They had an image problem. In "Bloggers no more," I wrote about our RJI survey of 66 publishers in spring 2010:
We asked online local news publishers to describe their biggest challenges. Said one: 'The word BLOG!!!'

Indeed. In a world that still often pits bloggers (cast as low credibility) against journalists (cast as high credibility, public opinion notwithstanding), community news publishers occupy a new space – they're often journalists producing local news online often in partnership with members of their communities."
Many were using a blog platform. But they were far from the stereotype of an angry blogger blasting harsh opinions across the Web. To be sure, they were passionate – and their passion lay in providing news and information to their local communities. At the time, they told our survey their top priority was to produce credible local news.
It also appeared the start ups were investing more time than their traditional industry counterparts in online interactions with readers.
"Those conversations drive what is important to us," said Polly Kreisman, an Emmy-winning broadcast journalist who founded The Loop NY in Larchmont, N.Y. "That's one of the reasons you want to build community. They help drive what your mission is. We're not the voice of God. We give them the platform."
That direct commitment to community was very appealing to me after a career in newspapers that genuinely wanted to serve their readers but didn't want to get close enough to engage.
Most of the site operators on my list were journalists displaced in the disruption of local newspapers. Their numbers would swell in 2009-2010 as industry layoffs mounted.
Contrary to the prevailing narrative, journalistic chops and credibility were not the issue. Money was.
The first Block by Block Community News Summit 2010 in Chicago in the fall, brought community publishers together to talk about their passion and their challenges. It was an amazing time of discovery – the publishers discovered each other and the refreshed the mission they share. (The summit enjoyed significant support from The Patterson Foundation, Reynolds Journalism Institute, and the John S. and James L. Knight Foundation.)
Publishers knew they would need to develop revenue but there was some debate about possible sources. During one session, a participant put forward the memorable (if misguided) argument that "advertising is evil."
Nonetheless, many publishers in 2010 were on the verge of something different. Passionate about local news, they'd also started to become practical, more realistic about their sustainability. They had realized they needed to generate revenue, that a fairy godmother or foundation was not likely to fund their good work in perpetuity.
But they stumbled when it came to actually generating the revenue – selling advertising, attracting sponsorships, staging events or developing a member base. The publishers simply were not proficient in even the basics of running a business.
Block by Block might have ended right there. Instead, The Patterson Foundation renewed its commitment to the publishers in innovative ways, including developing a business curriculum that will help sustain community publishing for years to come and fostering formation of a publishers' trade group.
A key and oft-repeated learning of this work supported is that journalists need help becoming publishers in the truest sense of the word. They don't start out as business people – training and coaching can get many of them there. Their learning, in turn, has the potential to mushroom into greater success in a young, struggling field.
I think the work points to three other important lessons for funders and others who support local news:
1. Set realistic expectations. Janet Coats conducted a research on behalf of The Patterson Foundation to develop a solid understanding of a diverse, confusing field and its challenges and to set expectations that were practical enough to have impact.
Elsewhere, significant foundation support has been wasted on efforts that based on unrealistic or vague expectations. One recent example is the Chicago News Coop, which folded after two years and about $1 million in spending without ever really establishing its place in the Chicago news ecosystem, much less advancing a viable business model.
2. Build capacity, not unsustainable payrolls. Patterson's strategy of building the capacity of community publishers – through training, convenings and coaching – is a model for other funders. The parable of teaching people to fish rather than simply giving them fish is apt here. Knowledge about how to generate revenue will outlast a direct grant.
Sure, foundations grants for nonprofit news operations will always be part of the mix, foundations willing. But news organizations that diversify their revenue sources and mix charitable with earned revenue have the best chance of stabilizing and growing.
But large start up grants create a risk that the organization will quickly staff up and then be unable to sustain itself.
3. Value the small. The emerging local news operations are miniatures by the scale of newspapers. But they are valuable experiments, and their size may be an advantage – the bootstrapper may have staying power in a revenue-challenged market.
Of course, the larger nonprofit sites have the capacity to produce significant and valuable work and that's evident at The Texas Tribune, Voice of San Diego, MinnPost and a few others that operate with $1 million plus annual budgets.
But we're not seeing a lot of start ups on that scale – The Bay Citizen was the last big one to launch, back in 2010. (Facing a leadership vacuum, it was taken over earlier this year by the Center for Investigative Reporting.)
Community activists in New Orleans proposed a large non-profit site earlier this year as the local newspaper cut back to three days a week. They had a grand and expensive idea. But they later opted to encourage a partnership between the local public radio station and The Lens, a small investigative site that is already producing impressive work.
So small may not be the only model. But recent developments argue that the small, independent operators promise to be l force in highly local journalism.
--
None of this suggests that what is emerging will solve the key problem left by the decline of newspapers – a sharp decline in the number of reporter feet on the street. A recent Christian Science Monitor story reminds us of this and raises critical questions about the decline of civic engagement as well.
Still, it also reminds us (if you read to the end) that small, determined journalism start ups – like The Lens in New Orleans – produce significant work. And not just The Lens. Add to the list New Jersey Spotlight, Vermont Digger, Corona Del Mar Today, Davidson News, Winnipeg Community News Commons, and on. This list is growing, not shrinking as traditional news sources contract.
The discovery of new models for news will not be a single large-scale event with horns blowing and cymbals clashing. Instead a series of small steps and connections will yield solutions that will need to be adapted from one community and from one publisher to the next.
That is why the work has been so significant. And it has moved an important cadre of community publishers forward in their ability to serve their communities in the future.
This blog is made possible by a grant from the John S. and James L. Knight Foundation.
This post originally appeared on The Patterson Foundation website.