Black Hills Knowledge Network - Where libraries get their digital on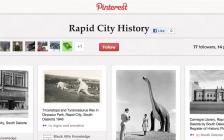 Rapid City Public Library is done adding shelves for its collection. In fact, they're taking them away. And as the biggest public library in the Black Hills Knowledge Network, they're setting a digital-forward tone.
Black Hills Knowledge Network is a collaboration between libraries, local foundations and media partners to bring public policy knowledge to the residents of the Black Hills region. It began as a pilot at the Rapid City Public Library, and with the boost from Knight's Community Information Challenge, it grew to cover an area 150 miles north to south and 100 miles east to west.
The Black Hills Community Foundation chipped in half the total grant amount and administered the funds. Its board members rolled up their sleeves, including Eric Abrahamson, who eventually became the Knowledge Network's director.
"In the pre-digital age, librarians would literally go through the newspapers and cut clippings out, and they'd put them in a subject folder, and those would be in a file cabinet somewhere in the library," said Abrahamson. Instead, BHKN gives librarians a central place to index and tag local content.
At a hulking 42 employees compared to the other eight library partners (most of whose staff sizes number in the single digits), RCPL has been the training lead in working with their regional counterparts. Books have traditionally represented knowledge, and libraries::knowledge centers. As they transition to digital media, BHKN is an opportunity to establish themselves online as a consortium knowledge center.
"There are a handful of trends that are evolving with libraries. Being a community gathering space is definitely one of those trends," said RCPL director Greta Chapman of how the library partners are selected.
"We have that [digital] vision discussion, and in almost all cases, it makes sense. Then it becomes the next question of how do I find the time to do this? And that becomes a question of what are you doing today that you don't need to be doing," Chapman said. Libraries can hand off donation sorting to the Friends of the Library. They don't need to be the proctors for distance learning tests. They don't need to write up custom records for their catalogues.
RCPL has learned a lot about easing the analog to digital transition for libraries. The training curriculum has changed over time. Where it used to focus on technical training to navigate the Drupal platform, RCPL staffers now buddy up with partner librarians to touch base weekly via email and phone. RCPL makes site visits so that partner libraries feel more engaged. A curriculum package is also in the works for partner librarians' reference.
More than anything, the change in training has been to understand the community context of each library. Chapman describes libraries as a democratic resource. Each patron is comfortable with and seeks out different topics.
"There certainly have been times in libraries where information about homosexuality was either not available or it was behind the desk," Chapman said, describing how there were layers of access to information, but it was nearly always available.
Chapman sees a parallel with BHKN. Public policy information can be just as divisive as social issues: parking, for example, or how to manage urban wildlife. Now that there are search engines—if the information exists—it is just as easy to turn up as less controversial issues. Libraries have traditionally been the gateway to this information.
But, Chapman says, "it's the thing that we have to stretch to to grow our communities so they have informed discussions about divisive issues in a neutral, objective manner."
As critical partners, Black Hills Knowledge Network is invested in helping libraries see their impact. It is ready to share analytics data with partners.
"One of the things that Rapid City Library has helped to show them is that the traffic on the Black Hills Knowledge Network is even greater than most of those paid databases," Abrahamson said. "So when you think about investing in information resources, this is a much better bang for their buck for their patrons."
But this impact indicator doesn't necessarily take with the libraries. So Abrahamson and his staff organized gatherings this spring around issues like health, education and economy, drawing a total turnout of about 230 people.
"We realized that our primary market if we're going to be successful is the influencers in our community," Abrahamson said. "When the librarians get positive feedback from these leaders, they feel more engaged, too." Abrahamson has already planned more convenings for the fall.
Chapman believes in the digital future, and she believes in meeting patrons where they already are. To showcase librarians' work, BHKN manages a Pinterest account with collections that span oral histories about a major flood in the 1970s, archival images of an annual county fair in one of the northern counties, and 30 years' worth of data when the city council announced an expensive redevelopment of the civic center.
"One of our goals with our community archive project is to help deepen a shared awareness of what our 20th century history is so that when people engage on all sorts of community issues, they have a common understanding of who they are and who our community is that's not just anchored in that 19th century perspective," Abrahamson said, describing the area as cowboy country. "Part of what that means is finding the basic archival components that help you tell that historical story. They may be from the 1920s, '30s, '50s, '80s whatever, but they're not pictures that are otherwise shared in the community. By putting them up and sharing them, people have a much more visceral sense of who the community was and is. Pinterest has been a great vehicle for us to share that visual storytelling.
And with the range of tools like Pinterest that BHKN uses to connect with library patrons and local residents, Chapman said "…this is the impetus that says let's move forward. so we become a platform for [libraries] to manage change."