Digital Training Comes of Age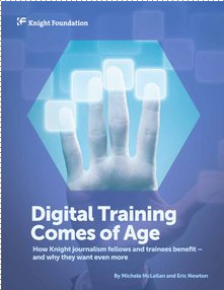 Knight Digital Media Center at USC Annenberg is one of several programs featured in a new Knight Foundation report on professional development and training for journalists and other news providers.
The report, "Digital Training Comes of Age," includes a survey of 2010 and 2011 trainees that shows a strong desire for more training, particularly in digital expertise such as data, multimedia and technology. The report also shows that online distance learning is becoming more popular and more effective.
KDMC's primary mission has been to help leaders of news organizations transform their operations to provide news on multiple platforms. Among those trained have been leaders of major newspapers including The Atlanta Journal-Constitution, The Oregonian and The Boston Globe, as well has NPR and PBS.
The report highlights these examples of KDMC's work with newsroom leaders:
Consider The Seattle Times. Its top editors attended leadership sessions in 2008 at the Knight Digital Media Center at USC Annenberg. "It is difficult to overstate the impact those five days have had on our organization," said executive editor David Boardman. "We won both a Pulitzer Prize and the Associated Press Managing Editors Innovator of the Year award (in 2010). I have doubts we would have won either had Kathy (Best) and I not attended the KDMC workshop."

After the training, Boardman said, "we were turbo-charged," integrating digital thinking throughout the newsroom. The Pulitzer was awarded for Times coverage of a 40-hour manhunt for the suspected murderer of four police officers. The suspect, killed during a routine traffic stop, had been granted clemency by the governor in an earlier case. Because of the KDMC training, the Times had integrated Twitter and other social media tools into its coverage, and they greatly helped the community understand, and cope with, the tragic news story.
Also:
The Knight Digital Media Center at USC Annenberg's leadership programs have helped editors change the structure and processes of their newsrooms to support digital journalism, creating new jobs, duties and approaches.

In Wichita, editor Sherry Chisenhall says training is a key part of her newsroom reorganization. Every job description has been rewritten to reflect a multiplatform newsroom, where Web and mobile publication come first and print is at the end of the work cycle. The key to the success of her restructuring was a training plan designed "to help every person learn, on their work time, how to do the job now expected of them."
In recent years, KDMC has significantly expanded the scope of its work to include new players in the local news ecosystem - news entrepreneurs and community foundations and other mission-driven organizations that seek to inform and engage their communities using digital tools.
This year, KDMC significantly expands its work with community foundations. This will include in-person training workshops as well as online classes designed to help community foundations take advantage of digital opportunities. For more information about our programs, check out our training resources.