Business success resources from Journalism Accelerator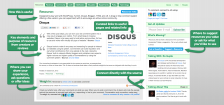 Need help building your community news venue into a sustainable business? The Journalism Accelerator project has published a curated guide listing more than 300 practical resources including reporting tools, community-building ideas, advertising tips, databases, business models, industry background papers, training opportunities, experiments to watch, key organizations and more.
Each listing includes:
A brief explanation highlighting that resource's specific, practical value.
Descriptions of the resource's key elements and purpose, according to people who created, reviewed or used it.
Links to key pages and features, so you don't have to dig.
A comment thread for posting related tips, experiences and suggestions about that resource.
The index to this guide helps you quickly find the right resources. An ongoing series of online Q&A sessions can connect you with resource creators and other users.
This multi-layered approach lets the JA offer just-in-time solutions, different paths to find specific resources and robust learning opportunities.
To contribute to this growing collection, suggest resources you use. Please explain how the resource you're recommending has been valuable in your work.