Google tools for journalists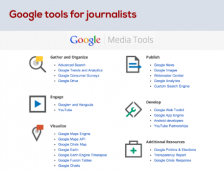 Google offers many free tools that are useful for journalists and others who create news and information content. Now, these are packaged in one place: Google Media Tools.
This one-stop-shop offers access to information and tutorials about useful Google tools, as well as journalistic context: ideas for using these tools to support journalism, with links to news industry examples. Almost all of these examples are drawn from major daily news outlets around the world, but most of the tools and concepts could also apply to community news, information, and engagement projects.
The site is organizing according to common types of journalistic tasks, such as "gather and organize," "engage," "visualize," "publish" or "develop."