Michele's List survey of online news startups shows gains, challenges
Here are highlights of a survey I conducted in spring and summer of 2013. Publishers of 53 independent local online news startups in the United States responded to the survey, which is designed to track progress of emerging local news organizations. Many of their specific responses are also published to site profiles on www.micheleslist.org, a searchable database designed to enable publishers to connect with others with like models and challenges.
Read my blog post: Local online news startups: Progress, profits and persistent challenges
While generating revenue is a critical challenge for most publishers, progress is evident – a third said they are operating at a profit and another third said they have developed at least one steady source of revenue. The sites operate primarily with paid staff, but only a third of the publishers pay themselves a full salary.
The organizations in this survey reflect several different types: About half cover a small town, community or suburb, a quarter cover a large city or metro area, 10 percent cover a neighborhood and the rest are regional or state in scope. About half cover general local news and about half are more niche, regularly covering a few topics at most. Approximately one-fourth of the 50 organizations are nonprofits. Most of the for-profits have LLC status. Their reach ranges from 2,800 unique monthly visitors to 118,000.
1. What are their key successes?
The editors and publishers report they are having success in producing journalism and raising their visibility in the community. More than many of their traditional counterparts, the startup leaders tend to focus more on engagement and cite progress there as well.
"Community engagement continues to grow exponentially- we document about a 3.5% growth in readers every week across 4 platforms: email subscribers, Twitter, Facebook and direct views," one publisher said.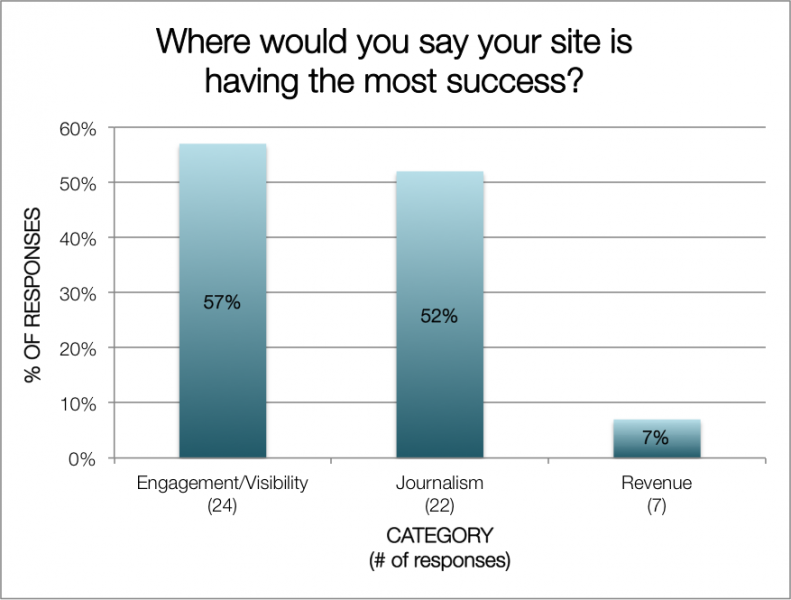 Because of multiple responses, percentages exceed 100
2. What are their most pressing challenges?
In a word: Money. Two-thirds cited revenue as a significant challenge. One-fourth said some aspect of the journalism was a major challenge – either meeting reader expectations for lots of news or finding time to develop investigative work.
A typical comment: "Our biggest challenge remains revenues and selling our sites as a marketing tool. While we've had some success selling advertising (which accounts for most of our revenue), mom-and-pops and other small businesses are still tentative about using the web."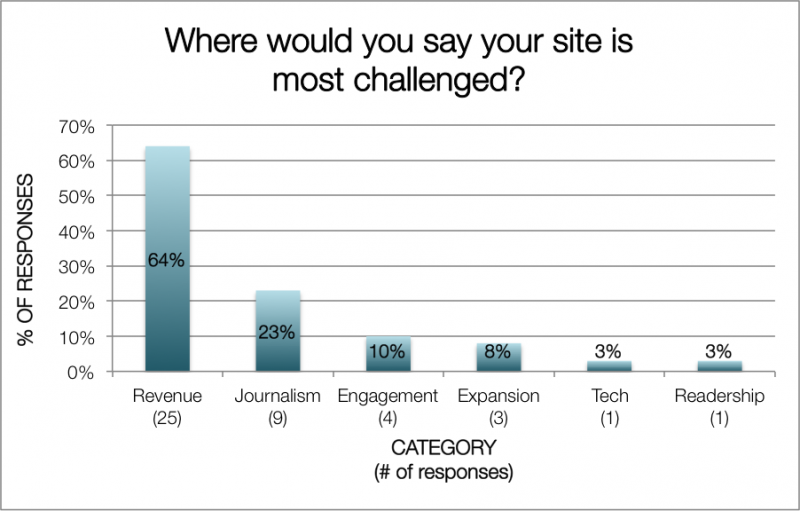 Because of multiple responses, percentages exceed 100
3. Are they profitable?
Only three in 10 said they turned a profit in 2012. Another third have steady revenue but are not yet profitable.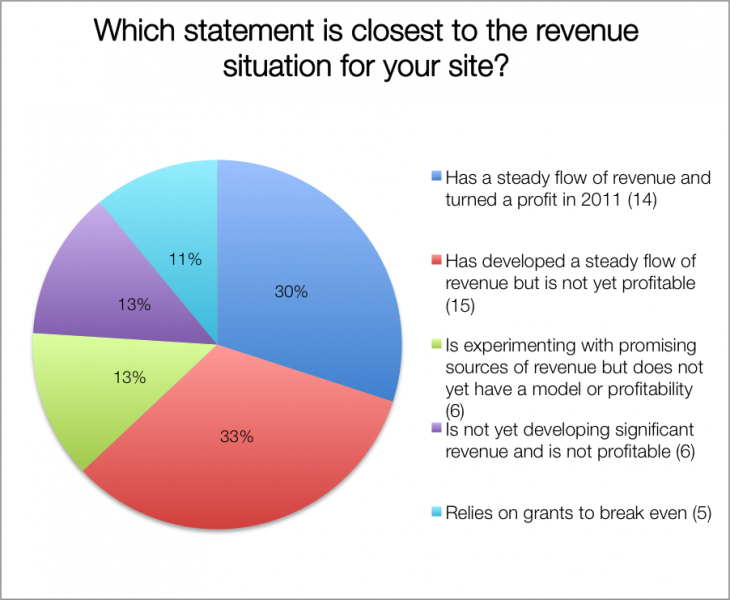 4. How much revenue are they taking in?
Most of the organizations do not have large revenue streams. About two-thirds took in less than $100,000 in 2012; about half took in less than $50,000.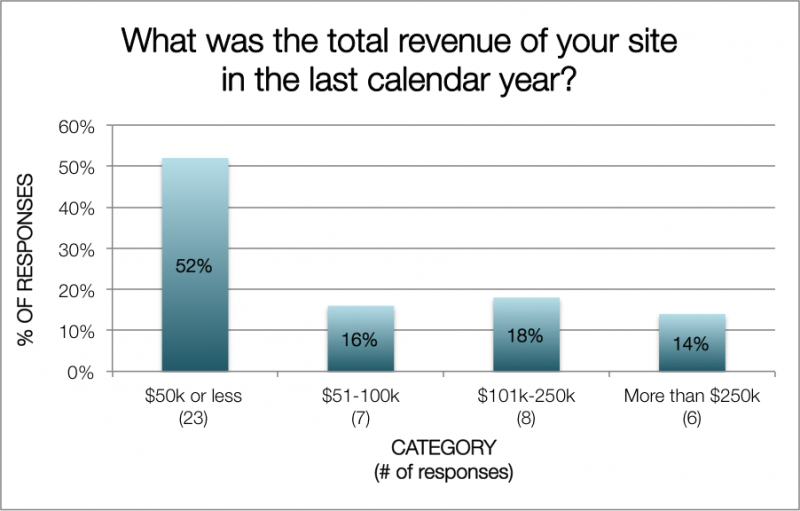 Because of multiple responses, percentages exceed 100
5. What are their major revenue sources?
The for-profit sites rely very heavily on advertising – nine in 10 cite it as a major source of revenue. The nonprofits rely on a mix of foundation grants, donations and sponsorships.
*Other made up of one each - subscription, ad network, book publication, merchandise, donations, syndication, national advertising, events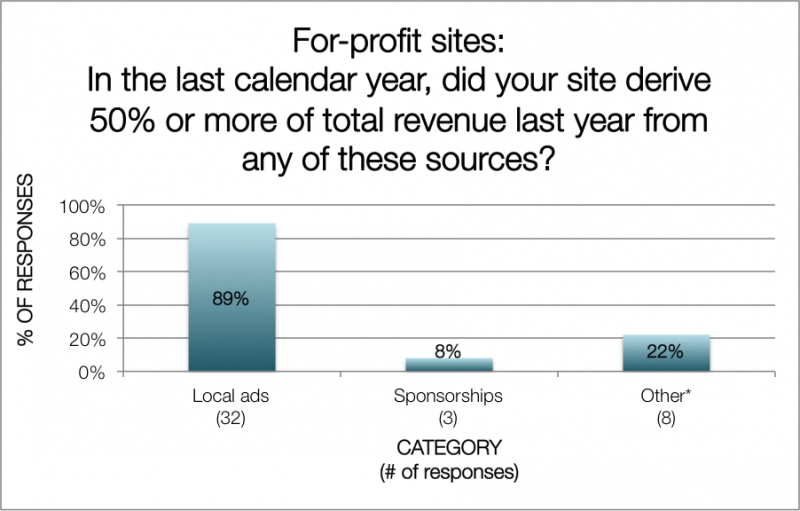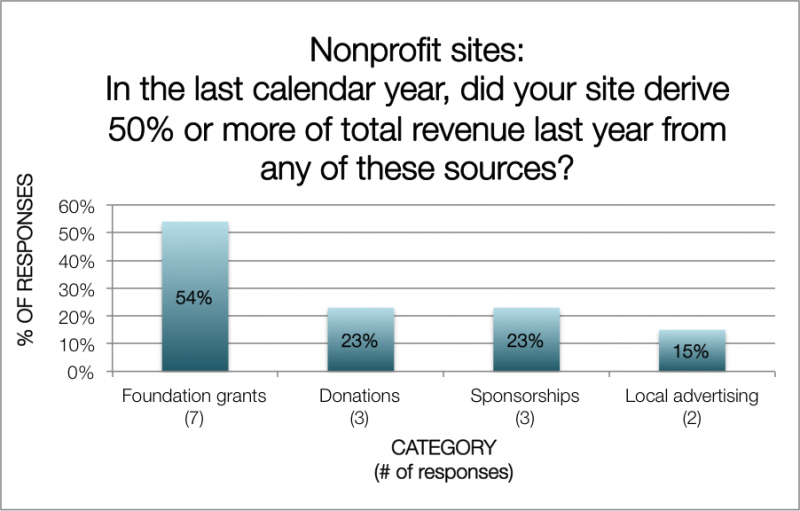 6. How do they expend their resources?
On average, they are investing well over half their resources in editorial content – a level that may not be sustainable. They are investing less than one-fifth of their resources in revenue development. Typically, content and revenue allocations should be more balanced.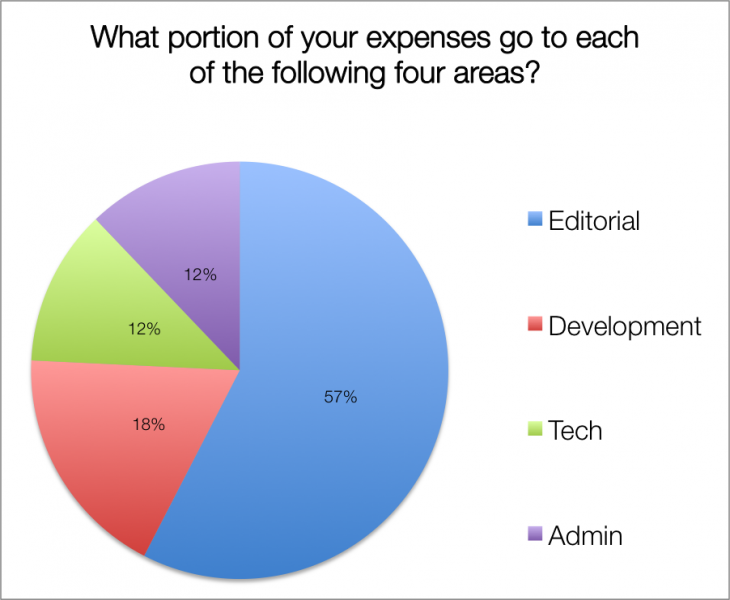 7. Who contributes their content? Do they pay them?
All but a handful of organizations reported that professional journalists are a primary source of content for their sites. Community members who are not journalists also play a role. Half of the organizations reported that their primary contributors are a mix of journalists and non-journalists from the community.
Most organizations report they pay their contributors, either as staff or freelancers. Volunteers also make up a significant share of the contributor pool.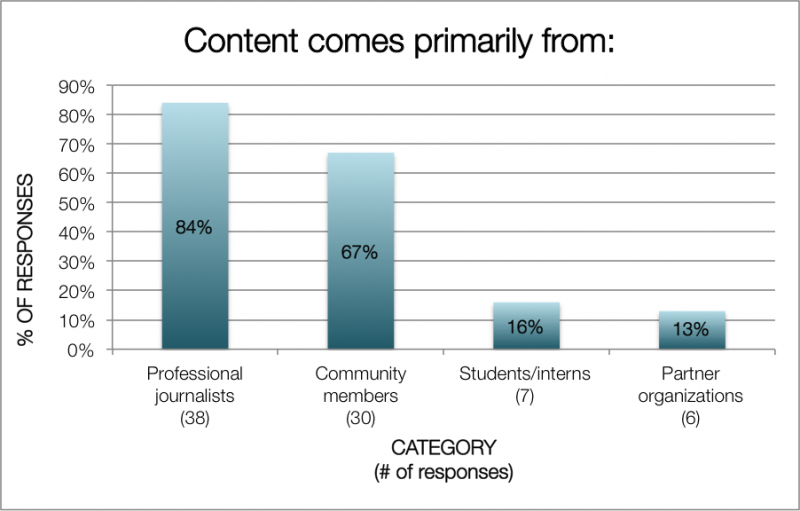 8. Partnerships
Slightly more than half reported one or more partnerships with other organizations. Among 24 organizations that have partnerships, the most common one was with the local newspaper, which typically republishes content from the start up, enabling it to reach more readers.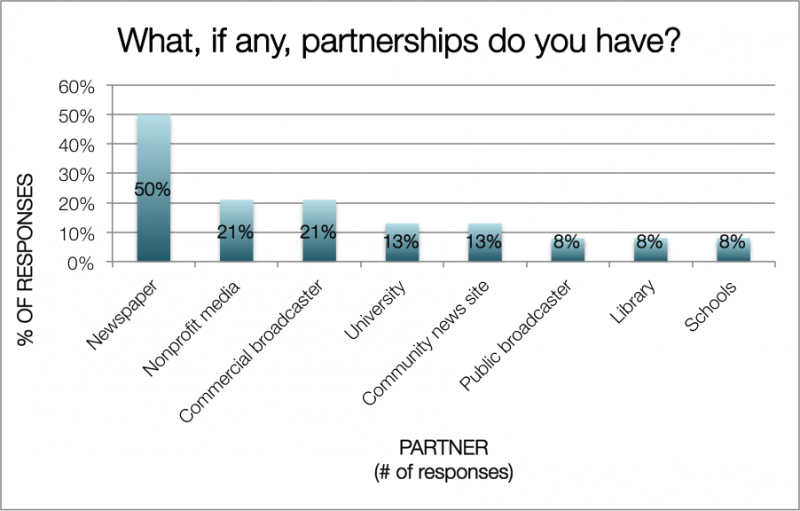 *Percentages do not total 100 because some organizations cited multiple partnerships
9. Who are the revenue developers? Do they pay them?
Most of the organizations compensate sales people and others who generate revenue, either by salary, commission or a combination of the two.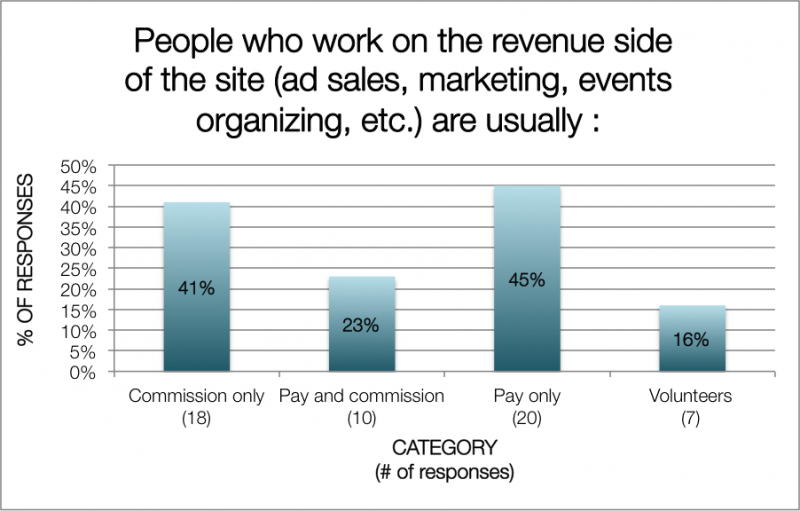 Because of multiple responses, percentages exceed 100
10. Do they pay themselves?
A third of the publishers do not pay themselves and another third draw only a partial salary.