Is that user submitted photo authentic? Try a new verification tool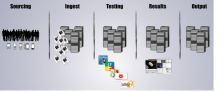 If you've received a user-generated photo that looks almost too good to be real, the Verified Pixel Project can help vet the image. The automated photo verification platform is designed to help newsrooms quickly screen and authenticate photos.
The tool, supported by a grant from the Knight Prototype Fund, provides automated testing of photos through metadata and image analysis, according to Samaruddin Stewart, project lead for Verified Pixel.
In an interview with Futures Labs #129, Stewart details the verification process. Verified Pixel runs tests on photos that can tell what camera was used, when and where and whether the image is original. It also can do a reverse image search and more. The verification takes a little over a minute to complete.
On its website, the Verified Pixel Project says the tool is designed to minimize risks associated with:
• An increase in eyewitness images based on the prevalence of smartphones
• Amplification of sharing misinformation through social media
• The availability and widespread use of image manipulation software