Immersive walking tours: Step into your community's shoes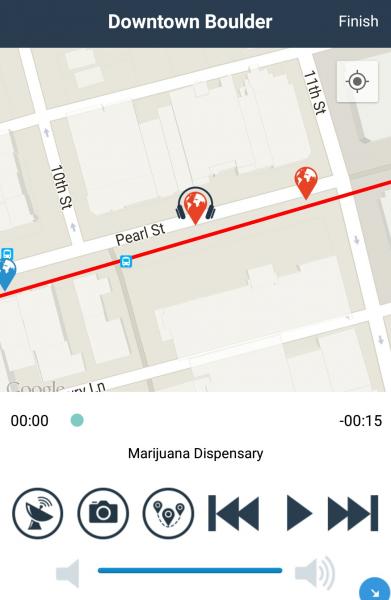 One way to really get to know a community is to step into the shoes of the people who live there. Creating immersive walking tours that can be played on a smartphone can help you engage longtime residents, newcomers and visitors alike around local culture, issues, and history.

There are several ways to create self-guided walking tours that play on a smartphone, but VoiceMap has assembled a plarform that's probably most appropriate for individuals or organizations who seek to inform and engage their local community. Also, Voicemap is easy to use for both tour creators and for walkers.

Many people have used Voicemap to publish immersive walking tours for cities all over the world. There's one of my own city, Boulder, Colorado -- a tour of the downtown area, including commentary on current issues such as the legalization of marijuana, by Boulder resident Elizabeth Fritzler.

Visitors and newcomers are obvious audiences for self-guided walking tours -- and indeed, most existing VoiceMap tours seem geared to this kind of audience. However, it's also possible to use this medium to engage longtime residents by telling stories of local history, current and emerging issues, and culture.

For instance, Aric Allen created a VoiceMap walking tour that tells the story of how Gambling Built the Sunset Strip in Los Angeles. Similarly, Rick Snider's tour walks people through the Lincoln Assasination in Washington D.C. Tours also might explore current or emerging issues, such as land use planning, transit access, the effects of a policy or disaster, or the changing character of a neighborhood.

VoiceMap tours include maps and audio. So far, it's not possible to upload photos to accompany a VoiceMap tour, but the company is considering adding this feature.

"Our philosophy centers on immersing users in their environment, with as little contact with the screen as possible," said VoiceMap founder Iain Manley. "You really can just put your phone in your pocket for the whole of the walk. But I understand that old photos can add a lot that words can't, and this is a regular feature request. We're looking at building it into future versions."

Similarly, you cannot include links to content (such as articles published on a community website) directly in a VoiceMap tour -- but you could mention relevant in the promotional material for a tour, or in the audio at the end of the tour (which wouldn't detract from the immersive experience).

It's free to create your own walking tour on VoiceMap. You don't need any special gear, just a smartphone (equipped with free apps they recommend for audio recording and GPS tracking) and a computer.

To ensure that tours are compelling, coherent experiences (not mere collections of landmarks), Voicemap offers a storytelling tutorial and editorial support. This guides you through the process of planning, scripting, recording, and publishing a tour.

How to take a VoiceMap tour: Users can download and play your walking tour via the free Voicemap app (Android and iOS). Each tour presents maps, written walking directions, landmarks, audio commentary, and tips for walkers (directions to the starting point, estimated total walking time, best time of day/year for the tour, and more).

The app is location-aware. When the user is playing the tour, the app senses when they've arrived at the next landmark and starts playing that audio segment. However, you can also play a downloaded tour even if you're not at the tour location, to get a sense of what that community is like -- similar to listening to a podcast.

When you publish a VoiceMap tour, you can choose to make your tour available for free. Or you can sell it via the web or as an in-app purchase -- providing an optional revenue stream. Most individual tours currently for sale range from $0.99 to $2.99; and it's also possible to bundle tours into packages for one price. You set the price for your content, and VoiceMap pays a royalty on all sales. (Details in their publishing agreement.)

When a VoiceMap tour is published, it's presented on its own mobile-friendly webpage, so you can promote it with a direct link. This webpage prominently mentions the VoiceMap app -- but it's probably still a good idea, when promoting the tour, to mention that users will need to download the free app in order to play the walking tour.