The Diversity Style Guide: Important resource updated and expanded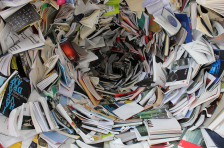 The updated Diversity Style Guide is a must-have reference.
It's a free online resource from the Center for Integration and Improvement of Journalism (CIIJ) at San Francisco State University that updates the original compiled in the 1990s by the CIIJ's News Watch Program.
"This is not a guide to being politically correct," the Center explains. "Rather, it offers guidance, context and nuance for media professionals struggling to write about people who are different from themselves and communities different from their own. No one person can determine the correct usage of a word; this guide takes wisdom and advice from leaders in the field who have researched and considered the cultural, political and linguistic meanings of words."
Edited by Rachele Kanigel, an associate professor of journalism at SF State, the guide includes 700 terms and phrases related to race/ethnicity; religion; sexual orientation; gender identity; age and generations; drugs and alcohol; and physical, mental and cognitive disabilities.
The Center said most of the terms were drawn, with permission, from the following organizations and their style or media reference guides: