Newspapers under siege as 65 percent of digital ads go to tech companies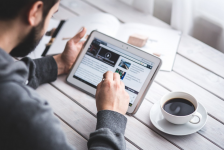 Newspaper revenues and circulation, print and digital combined, continued to decline in 2015 while both cable and network TV enjoyed revenue growth, according to the new State of the News Media 2016 report by the Pew Research Center.
It was the worst year for the beleaguered newspaper sector since the Great Recession in 2008. Pew reported that average weekday newspaper circulation, print and digital combined, declined 7 percent in 2015, the biggest drop since 2010. Sunday circulation was down 4 percent. Weekday digital circulation rose 2 percent but digital made up only 22 percent of total circulation.
Overall, digital advertising revenues continued to grow, up 20 percent in 2015 for a total of about $60 billion. Of that amount, 65 percent went to five tech companies, none journalism organizations though Facebook, Google, Yahoo and Twitter offer some news.
Pew's analysis of organizations that produce daily news provides detailed information on 13 segments of the news industry. It includes trends in audience, economic, newsroom investment and ownership across the industry.
Highlights of the report include:
Smaller budgets for newspapers have continued to lead to smaller newsrooms.
Television-based news sectors face serious challenges, but network TV grew ad revenue grew by 6 percent in the evening and 14 percent in the morning. Cable news channels projected ad revenues to be up 10 percent.
Audiences continue to get news from digital sources, more so on mobile devices rather than desktops.
Podcast programming and listenership grew again in 2015, though listening continued to by a minority of the public.
The Hispanic news media market is in the state of flux.
The long-standing African American-oriented news media showed little substantive change in 2015.
Experiments in online storytelling and original reporting in 2015 included virtual reality journalism and chatbot personalized texts or mobile messaging.