InvestigateWest: Engagement motivates and supports local journalism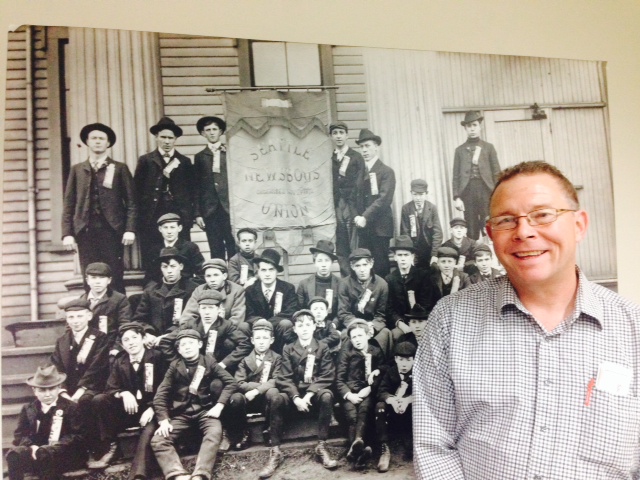 Launched in 2009 after the demise of the Seattle Post-Intelligencer, InvestigateWest has discovered some interesting ways to conduct, promote and support nonprofit public service journalism in the Pacific Northwest. Among these are partnerships, weighing the potential for public impact and engagement in topic selection, crowdfunding, and adopting a studio model for distributing content.

"InvestigateWest is increasingly paying attention to community engagement. It's always been true that we're here to make a difference, to effect policy and change in the world. But we also have very limited bandwidth" said executive director Robert McClure, a longtime environmental and investigative journalist.

"We pass on many stories simply because some other news organization might do it in a reasonable way in reasonable amount of time. Or because it's an issue where there's no real solution. But the possibility of solutions gets people engaged, and that will often tip the balance in which stories we decide to cover."

Data journalism also can be an effective engagement tool, they discovered. Since last year, InvestigateWest has been taking a close look at the housing market crisis in Portland, Ore. In spring 2014, INVW assembled a database of Portland-area homes purchased with cash, which supported a popular report, How Cash Sent the Portland Home Market Spinning, by Lee Van Der Voo.

"It was amazing how that reporting stepped up the local conversation about this issue," said McClure. "We got more traffic to this than to any other single story since we'd launched. When we saw this wide range of interest, we started to consider who might be partners to help bring more traffic to our site."

The Portland Housing Bureau and various local housing advocacy organizations began to publicize INVW's coverage via their social media channels. After that, the Portland Tribune and the Portland Chronicle began to cover it. Eventually the mayor of Portland declared a housing emergency.

"That sort of public amplification, that's what we're shooting for in terms of engagement. Those are the kinds of needles we're trying to move," said McClure. "We're still trying to figure out how engagement leads to social change, but we're learning a lot."

Other examples of INVW helping to move policy needles that McClure cited include:
Washington State passed three laws protecting the environment and worker health, McClure said "as direct result of our reporting."
Reed College, near Portland, reworked their policy for assisting sexual assault victims.
Seattle Public Schools began issuing air quality warnings, and started to consider air quality impacts as a factor in school siting guidelines.
Regarding INVW's Seattle school air quality series, Exhausted at School, INVW worked with a broadcast partner, King 5 Television News. This collaboration greatly enhanced the reach and impact of the story.
"When we consider engagement potential, part of this is definitely the likelihood that our story will get picked up by larger media, whether through partnerships or expanded coverage," said McClure.
The more INVW began to collaborate with other local news organizations, the more they started to see the potential to shift the distribution side of their organization. Now, much of INVW's big coverage is distributed under a studio model.
"We tried direct syndication, but that didn't really work well for us," said McClure. "The studio model is something you see more with documentary TV producers, who create stories for big shows like Frontline. So we think of ourselves, in part, as a studio for reporting on the environment, public health, and government accountability. We do the stories we think need covering, and seek to place them with a news outlet or other appropriate venue."
Taking community engagement directly into their business model, INVW has begun to experiment with crowdfunding for some stories, on the Beacon Reader platform. This offers insight and benefits beyond the dollars directly raised in crowdfunding campaigns.
"We followed up with a survey for our crowdfunding supporters," said McClure. "80% said they'd definitely or probably give us money again. But more importantly, we kept the discussion with these supporters going beyond the campaign. Also, by showing we could raise $5000 from 50 donors, we were able to parlay that into an additional $10,000 in foundation support."
In general, INVW is learning the value of outreach to influential individuals. "That generates ripple effects. We ask them to contact their friends on our behalf, to spread the word about our work. Some of this happens through e-mail and word of mouth."
In McClure's office hangs a large photo of the Seattle Newsboy Union, from nearly a century ago. "It's a reminder that you do need to think about traditional mores and practices. But it's also become a symbol of how today, we can use social media to spread word -- social media as the new newsboy. That dominates my office."