New data: Focus on franchise topics and metrics increases engagement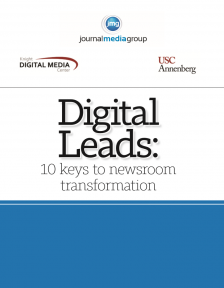 On the path to a "digital leads" footing, we encourage newsrooms we work with to use consumer research to identify and frame "franchise" topics and to use metrics to assess whether readers find it relevant and engaging. This process will be the focus of a free Webinar on Oct. 6. (Registration.)
A new analysis of metrics for twelve months from one of our partner newsrooms, TCPalm.com (Treasure Coast Newspapers), demonstrates the promise of this approach. Franchise topic coverage produces higher engagement than other content, according to the analysis by the American Press Institute.
"Overall, all of your franchise topics perform 30 percent better than non-franchise content. That means your core strategy is working. Readers spend more time and share content more often within your franchise areas compared to the rest of your content," the API brief said. The report, covering July 2014 to July 2015, was based on analytics collected through API's Metrics for News program.
Since 2012, Knight Digital Media Center has worked on digital transformation with Treasure Coast and 12 other newsrooms that are part of the Journal Media Group. KDMC introduced the concept of franchise topics to help the newsrooms identify and frame coverage of high relevance and interest to local news consumers while giving the newsrooms a manageable number of focal points for digital adoption.
Treasure Coast developed three franchise topics, which, according to the API report, constituted nearly a third of the organization's overall coverage during the year:
#TCPalmSocial, which covers arts, culture, events, dining, yielded 30 percent more engagement, including 20 percent more page views and 100 percent more shares.
Shaping Our Future, which covers growth and development, produced 26 percent more engagement, including 8 percent more page views and 83 percent more shares.
Our Indian River Lagoon, covering the intersection of environment, recreation and the economy, produces slightly better than average engagement but it has significant read time and is shared 53 percent more than average. API says this is an indication of a narrower but deeper audience.
Mark Tomasik, editor in Treasure Coast said in an email that the selection and framing of the franchise topics have played an important role in the engagement levels, while the ongoing attention to and increased sophistication about metrics have enabled to the staff to continue to increase engagement.
"Early on, our engagement may have been more like fishing - cast a lot of lines and hope for a bite," Tomasik said. "Today, by using metrics to gauge which topics resonate as engagement opportunities, we're better able to strategically use our time and our resources to pick the topics that have a high degree of probability for sparking a sustained engaged interaction."
Tomasik said understanding metrics across the newsroom is also important. "Our audience engagement editor, Eve Samples, and our digital producers have become expert in this and, in turn, they share that knowledge with our staff so that the engagement with audience can be as consistently strong as possible."
Tomasik listed these additional factors in driving engagement:
Personal voice. "Encouraging staff to exhibit individual personal style. Everyone knows what lines not to cross while still enabling room for displaying a persona that some users will want to follow or engage with."
Time of day. "Analytics show that engagement spikes with a large number of our audience on weekday evenings (in that 7 pm to 9 pm range) and on Saturday mornings. We make sure we have active engagement at those prime hours."
Quality journalism. "The better the journalism (most especially, on enterprise pieces and analysis), the more time that users will spend on site and will want to engage."
Visuals and headlines. "We have learned that headlines speak to the reader help get response. Visuals are a sure-fire way of getting readers to stop, look, read and then sometimes want to engage."
In assessing engagement, API looks at time, page views and shares. API's Metrics for News enables newsrooms to tag stories – "conversation starters," "problem solvers," "business and economy," for example. This helps the newsrooms identify types of stories that work well in different contexts.
Our report, "Digital Leads: 10 keys to newsroom transformation," details the process KDMC developed in partnership with Mizell Stewart III, managing director/content at the Journal Media Group and the 13 newsrooms. Stewart and I will present a free Webinar about the "10 keys" on Tuesday, Oct. 6 at 11 am PT | 2 pm ET. You can register here.