Code for America Fellows launch tools to inventory abandoned buildings
Civic Insight and LocalData are bookends for making information about the built environment of a place accessible to the public and easy to use. The major difference is one start-up collects data from inside the municipal bureaucracy and the other collects it from the outside, from the sidewalks of neighborhoods.
Civic Insight's tool makes existing hard-to-find government data sets easier to access and understand. LocalData's makes it efficient for residents to collect data and create new datasets useful to both residents and government.
Both start-ups got their beginnings during 2012 Code for America Fellows projects and both are funded in part by the Knight foundation.
Both Civic Insight and LocalAccess are being used to help municipalities and residents address blight and vacancy that remains in the aftermath of the disastrous housing bubble. Both products improve the quality of municipal data and make it visually more intuitive and seamlessly interactive. They are flexible enough that they can be used for a range of projects and they are open source.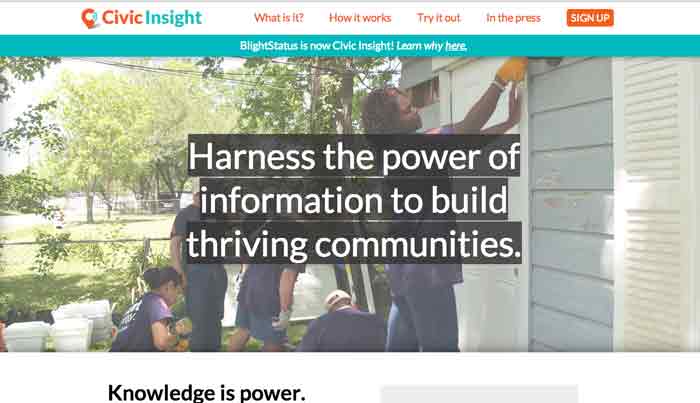 Civic Insight was born from a CFA project in New Orleans called "Blight Status," says Alex Pandel, a CFA Fellow and co-founder. (Watch a PBS video about Civic Insight.)
With the mission of co-creating technologies that would help their host municipality, the CFA team took a deep dive into the New Orleans civic landscape. The Fellows met with city employees, community groups, residents and non-profits to understand the information needs of residents and how the team could help. In addition, they tapped into the expertise of The Greater New Orleans Community Data Center which does mapping and Who Data at the University of New Orleans run by Michelle Thompson.
"We were able to identify that there was this information gap between what citizens knew was going on with abandoned properties and what the city was doing, " Pandel says. "We asked, 'What do citizens know ?' and 'Why are they not getting the whole picture?'"
What the team discovered is that in New Orleans – as in most municipalities — the data was managed by multiple agencies.
"It was a case of decentralized information that made it difficult for everyone to be on the same page," Pandel says. "I thought, we can do something about that."
The team took on a role that in the past might have been contracted out to a team of blue-suit IT or management consultants.
"We went from department to department and found where all the data was living and brought it all together so we could have a "live" connection with it," she said.
Data is the lifeblood of decision-making in many government agencies, but the problem is that data constantly changes so it is "dead" almost as soon as it is collected. The "live" connection was essential. Although the ideal way to capture data live is through APIs, they also wrote custom importers for some data sources that didn't have APIs. "Whatever our city customers have, we try to accommodate," she says.
A designer by training, Pandel worked on user interface. "I was working from the heart of the community to understand how the community understands the process and how does that match up to what the process is really like and how do we communicate that process out," she says.
Civic Insight has found its next customer in Palo Alto.
Since the company's core offering is accessing opaque city data sets and making them easy to understand, their product can work with any data. Palo Alto has hired them to simplify permit data so construction companies and architects can have a better feed back loop with the city on their projects.
Pandel and her colleagues thought their product would resonate only with the community and have been surprised by the numbers of inquiries they've had.
"We did not want to charge users for access and we want it to be equally accessible for everybody," Pandel says. "Cities pay a small subscrition fee annually for access to the site. It is publicly available to the residents."
"We're different from LocalData because we need to have an established relationship with whomever is holding data" she says. "Our goal is to reduce duplicate work. Our goal is to go to the source so that we are saving everybody else time."
Pandel says she doesn't view this work as journalism exactly.
"I like to think of it as promoting government transparency," she says. "We take it from being data to being information that could be understood by a regular person an dthat coiuld be a journalist."
"The Code for America position is this is a public data. It should be public data. It should be easy to access. Keep it public. Keep it free," she says.
The biggest pushback they felt on the project was from city worker who feared that making the data available would make the municipality look bad, but it actually worked in the reverse.
"There was an increase in empathy once residents were able to understand the magnitude of the problem," Pandel says.
The Greater New Orleans Foundation helped pay for the team's initial work. The Knight Foundation made a program related investment of $220,000 — technically a convertible note — through the Knight News Challenge to support Civic Insight's launch as a company.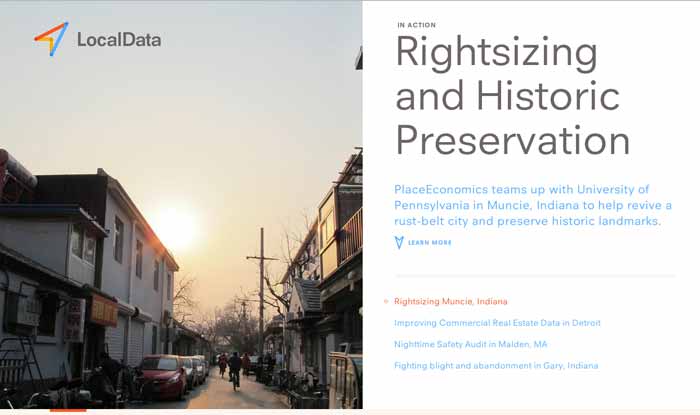 In Detroit, a different group of CFA Fellows created the tool LocalData to be used on smartphones and tablets.

"LocalData believes better data helps cities and organizations make better decisions," says Matt Hampel, a former CFA Fellow who co-founded LocalData.

"The City of Detroit had a huge problem of foreclosure and blight," Hampel says. "We talked to a number of groups doing important work, walking their streets with printed maps and clipboards, trying to figure out where the abandoned buildings were."

The Fellows partnered with the City of Detroit and Wayne State University to do a survey of all the commercial corridors in Detroit in record time. The CLICS survey as it is called, was the first comprehensive survey of Detroit's commercial properties in 28 years. Using the LocalData tool on Smart Phones, they surveyed 9,538 commercial properties, recording a range of information about their occupation and condition.

"With support from the Knight Founation we expanded nationwide and are providing the toolsets for cities and organizations around the country," Hampel says.

LocalData builds off the city's existing geodata. They have a record of where every property is. "If you have geocodes you can see what has been covered so far, unlike when you drop points on a map," he says.

"Cities are increasingly seeing the value of opening up their data," Hampel says. "That leads to support for the goals they want to achieve."

LocalData has projects under way nationwide – one of the latest is with the SouthWest Organizing Project on Chicago's SouthWest side. "Residents will be able to collect the data to rehab dozens of properties in their neighborhood," he says.

Knight is supporting LocalData with $300,000 from the Knight News Challenge.

Hampel says organizations will pay a fee to use LocalData and they own the data that is collected."You can have 100 people or 1 person out collecting data," using the LocalData tools. "You can do your entire neighborhood or just a few blocks," he says.