NOLA public radio engages with text, audio-recording sculptures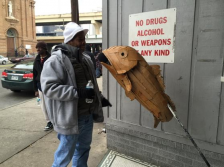 By setting up whimsical sculptures with embedded recording stations in neighborhoods, WWNO in New Orleans is tapping into local networks that public radio news doesn't usually penetrate.
The mission of the project, called the Listening Post, is to bring the greater public into the public radio fold.
As an example, in early March, the Listening Post focused on state budget cuts. To make the issue immediately relevant to New Orleans residents, the Listening Post asked "What have you cut out of your personal budget?" The answers?
"Smoking. Almost $8 per day." "We've cut the cord on cable." "Toys. No more fun."
Some were recorded at the sculpture sites and others were texted in. The idea is to make the state budget coverage personal so a non-traditional public radio audience can relate to it.
As it approaches the 10th year anniversary of Katrina, New Orleans has been attracting people from all over the world. It's seen as a place where innovation is taking hold and where social entrepreneurship and technology are flourishing. New people are moving to town and the real estate market is heating up.
"The question was how do we reconcile this tale of two cities that we seem to be stuck with in New Orleans," says Eve Troeh, WWNO news director. "For many people, their lives are not different. They are feeling inequity and asking 'How come things are getting better for some people but not where I live?'"
Through it's ability to put voices next to each other, the Listening Post is one of WWNO's tools for creating a unified story of New Orleans, she says.
Enabled by a portion of a $102,000 grant from the Knight Foundation in 2012, all-news/talk programing is new at WWNO.
Troeh started as news director in April 2013 and one of her first hires was Jesse Hardman as the WWNO coastal reporter.
Inspired by the original public radio mission of getting information to the people who need it, Hardman and Troeh began asking questions about how a tiny local news team could cover communities that were not very news driven.

Dropping a microphone
They started discussing the idea of "dropping a microphone" into the places where people hang out and talk. And that's how the Listening Post was launched.
"Eve was trying to think creatively about how you cover a city without a staff. I said I've experimented with this in other countries. So I got a little funding from Internews, which is a nonprofit that I worked for in a variety of countries. They were interested in trying something in the U.S.," Hardman says.
Internews is a Washington-based nonprofit that operates globally, training media professionals and citizen journalists to increase coverage of vital issues and advance open access to information. Hardman had done a project similar to the Listening Post circulating information among the people of war-torn Sri Lanka.
Internews provided seed funding and connected Hardman with a donor in Baton Rouge, the Pennington Family Foundation. The foundation has funded the Listening Post for two cycles now. Three months initially and then more recently for eight months.
"We wanted a way to create a flow of content into WWNO," Troeh says. "We wanted to create an ongoing relationship. We didn't want to report only when there is some awful tragedy."
How the Listening Post works
Every two weeks, the Listening Post poses a question to its audience.
The questions are posted on street signs at the listening sculptures and also delivered rough text messages to an audience of about 700 subscribers and growing.
The Listening Post is building its text subscription list using Groundsource, a mobile technology that offers tools for sharing information and asking questions over SMS and voice. It allows the news staff to connect with people who aren't on social media or might not have reliable access to the internet. "Everybody has a cell phone and everybody can text," says Troeh.
Responses are crafted into a radio show that is a purposefully short five minutes.
"We share our favorite responses, and we include an expert on the topic. It kind of sounds like a deconstructed radio feature. It's not so NPR sounding in a good way. It's sounds like the city," Hardman says.
An added benefit is that as the newsroom circulates its phone number in the neighborhoods, it's building a base of sources easily reachable via mobile.
The initial text message is a headline with a hyperlink to some more information about the topic. When you answer the first question, you go to the next one.
"Then there's a link to see all the different responses, so there's kind of a reward in seeing how you responded up against everyone else. Then we read those in our radio segment, which is every other Thursday," Hardman says.
Because the Listening Post is trying to reach a population that isn't traditionally a public radio audience,"Saying you're going to be on WWNO may not mean anything to them at this point," he says.
The Listening Post public art sculptures are located at a community library and a recreational center. One is portable and the station brings it to Delgado Community College and local events.
"One of them is this beautiful bonsai tree. You hit record, and you talk to this owl sitting in the tree which is a microphone. We have one that's a lamppost. Then we have one that everyone likes. It's a fish. I think maybe that would only work here just because of Mardi Gras because people aren't weirded out by silly things," Hardman says.
The street signs posting questions are a new tactic, Hardman says.
" 'What's for dinner? Why are you mad? What things do you love?' We're putting them up on telephone poles in different neighborhoods," Hardman says, including instructions to text the number.
"When we're out interacting at an event or at one of these places where we have our listening posts, we get anecdotal feedback. People say, "Oh, yeah, I participate every time you put on a new question." We were at Whole Foods the other day with our fish and this girl was handing out coffee samples and she was like, "Ah, the Listening Post!""
Hardman says that about 700 people get the text messages, and normally 30 people will record an audio response. Methods like the street signs are an experiment to bring more people into the conversation.
"If we can get more people to participate and to trust the system, when things happen like a Hurricane Katrina or any number of major news issues then we can use the system to reach out to people," he said.
The Listening Coast
New Orleans is at a flash point for climate change with the land sinking and the sea level rising.
So WWNO has created a separate Groundsource phone number for the coastal areas for a sister project called the Listening Coast.
"There's a lot of issues here with coastal erosion," Hardman says. "We've got the fastest eroding coastline in the world. So we started a little side project with coastal communities. One thing I've noticed with them as we've done more of it is, and I think they probably have less distractions, they're much more likely to respond. That's been interesting."