OpenStates: Track your state legislature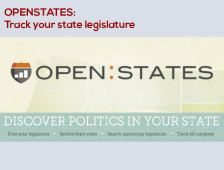 What's happening in your state government, and how might it relate to what's happening in other states -- or in the federal government? Earlier this year the Sunlight Foundation released a set of tools to make state government issues easier to track.
OpenStates is a website and iPhone/iPad app that tracks legislature activity in all 50 states, plus the District of Columbia and Puerto Rico. Current bill, legislator, committee and event data is collected automatically from official sources.
Through OpenStates you can find and monitor activity by issue (keyword search), bill, or legislator. You can track (and receive e-mail alerts about) the progress of specific bills, and you can review upcoming legislation. You also can find and track related legislative efforts across all states.
If you want to get geeky and work with the data yourself, OpenStates also makes data available via its API and bulk downloads.
Overview of OpenStates:
Tutorial: