Massive Open Online Courses expands digital journalism instruction worldwide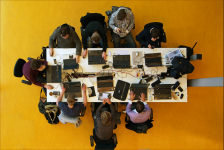 Originally a pilot project, Massive Open Online Courses will expand beyond free classes taught by the world's leading digital journalists to include low-cost "Big Online Courses," "Small Online Courses" and online master classes tailored for individual newsrooms. The additional classes will contribute to the sustainability of the education project.
"Free courses democratize access to journalism training by reaching out to thousands of people and creating big learning communities," said Professor Rosental Alves, Knight Chair in International Journalism in the Moody College of Communication and Knight Center director.
"The income by smaller classes will help the center to become sustainable, while keeping its role as a lab for new peer-to-peer learning models and a source of free or affordable journalism training worldwide."
The expanded program under the Knight Center for Journalism in the Americas at The University of Texas at Austin was made possible by a $600,000 in support from the John S. and James L. Knight Foundation.
In less than three years, the pilot digital journalism education program served 70,000 people from 169 countries.
A 2012 Knight Foundation survey found that nine out of 10 journalists who took Knight Center's online courses said the experience was "as good as" or "better" than any face-to-face training they had ever had.
The center said it plans to produce at least eight online courses per year for the next four years, reaching out to as many people as possible, including at least 10,000 participants in Massive Open Online Courses.