Digital Leads: 10 keys to newsroom transformation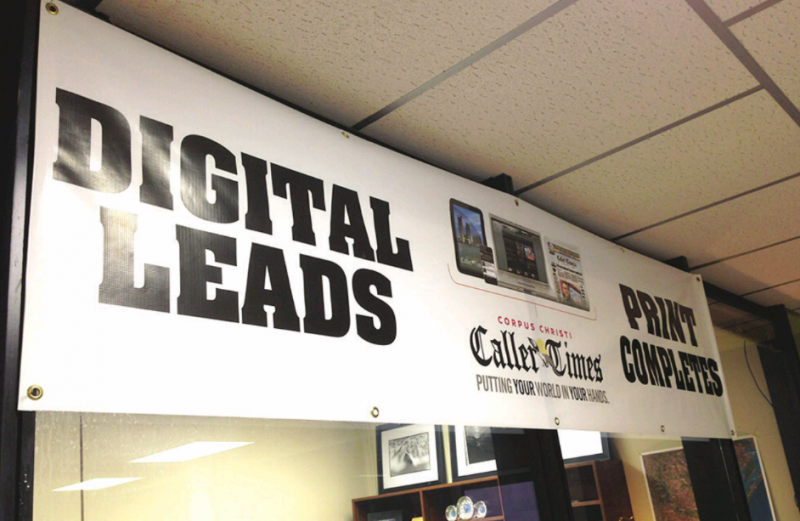 1. Strategy: Platforms, Pillars, Priorities
Summary: The initiative was grounded in an overarching corporate strategy for multiplatform journalism that set a high standard but was flexible enough to evolve over the life of the initiative and to be adapted as necessary by each newsroom. It sought to focus efforts on watchdog, data, real-time, and grassroots journalism and on intensive coverage of "franchise topics," unique coverage of high interest to potential digital subscribers.
The Four Platform Newsroom strategy sought to change print-driven newsrooms into multiplatform news providers that would:
Create content and engagement on three digital platforms – Smartphones, tablets and web -- and then publish on the fourth platform, print.
Emphasize local journalism, digital storytelling and consumer engagement.
Give priority to four "pillars," or types of coverage: watchdog/investigative, data, real-time reporting, and grassroots journalism.
Focus intensive journalistic and marketing effort on "franchise" topics unique local topics of high interest to digital news consumers that each news organization could own in its market.
The Four Platform initiative met key requirements of an effective driver of newsroom change: The strategy focused on journ
alism, and it was clear and easily communicated. Importantly, it laid out a direction for the newsrooms, even though the exact path was not clear at the outset.
"Being able to articulate our vision in a shorthand that is easily understood and in a way that was meaningful to each journalist is critical," Stewart said. "If I could frame it that easily, people could grasp it quickly and it would not be a big deal for me to repeat it over and over."
By stressing four broad pillars, the initiative sought to focus newsroom effort on new areas for experimentation (data and real-time reporting) while also valuing traditional journalism bulwarks (watchdog and grassroots). It also signaled to editors that other types of coverage could be downsized or dropped, important permission that was repeated throughout the initiative.
Building on the Four Platform strategy, KDMC introduced the concept of franchise topics to the newsrooms over the course of 2013. A franchise encompasses a highly local topic in which potential local subscribers have a high interest and are not satisfied with news and information currently available on the topic. A franchise topic also is an area where the newsroom has or could develop significant expertise that would enable the newsroom to own the topic in its market.
"In the digital landscape, information on most general topics like health or national news is readily available from a growing number of sources," KDMC Director Vikki Porter said. "The franchise concept requires the local news organization to distinguish itself and provide value to its audience by focusing resources on coverage of local topics and issues that personally impact that audience."
" 'Owning' the franchise and being the go-to expert for local topics makes the news organization a valued and reliable source of information that also cares about the community it serves.Creating unique, local content that would drive readership and engagement was only part of the picture. A focus on selected topics would help newsroom teams drive digital production into the newsroom more effectively than attempting across-the-board newsroom adoption. That latter approach risked being shallow and short-lived beyond a few that had a natural affinity for digital work. Instead, developing significant pockets that would lead the way and model new practices for their colleagues offered a greater potential for lasting change.
"A critical part of the culture change effort was using the franchise topic concept to drive digital transformation," Stewart said. "The franchise concept enabled the effort to be grounded in improving the quality of journalism across platforms and the newsroom's service to the community. This led to greater adoption than a pure focus on digital skills ever would."
Also, by focusing first on highly resonant topics, teams were more likely to be able to experiment with engagement techniques and see a fast payoff in positive community response.
Finally, like the pillars, the franchise gave newsrooms another important prism for determining coverage priorities.
But the primary reason for franchise was to heighten the news organization's brand in the community at a time when web users did not value the old brand of delivering a comprehensive news bundle to local doorsteps every morning.
The Four Platform strategy also clearly positioned print at the end of the production cycle, using the catch phrase, "Digital leads the way and print completes the cycle."This was an important concept for newsrooms that were largely focused on producing content for a morning newspaper each day while one, two, or a few members of the staff were responsible for most of the digital production. Often, the cycle still consisted of reporters filing late in the day for print deadlines rather than posting on the web in real-time. Significant production for smart phones and tablets had not begun. Social media activity was usually sporadic if it happened at all.
Top newsroom editors were keenly aware that this print-centric way of doing things could not continue. But they had yet to chart the necessary transition. To complicate things, two previously aborted initiatives had not taken hold and any new effort would potentially be seen as just another "flavor of the month" in the newsrooms.
While seeking to push decision-making into the newsrooms, the initiative did require that newsrooms follow a process to determine their paths. The process, developed by KDMC in partnership with the company, emphasized establishing a connection to digital audiences before determining job roles, activities or tools.
"We dictated a process, not an outcome like an organizational chart," Stewart said. "I said 'I need you to follow the process. But the outcome needs to be reflective of what people are telling you and what the research is showing.' "
"The beautiful part was that the process convinced a significant proportion of our journalists that they needed to go in that direction."