Digital Leads: 10 keys to newsroom transformation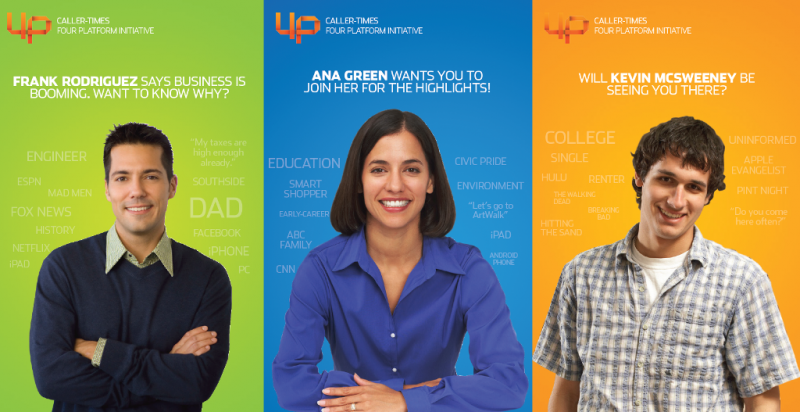 <<Previous: 3. Staff ownership
4. Process: From digital strategy to action

Summary: Creating a consumer-focused newsroom culture was critical, so the process was designed to connect journalists with digital news consumers. Each newsroom committee identified two to four local "franchise" topics of high interest to specific target demographic groups. Then committee members interviewed dozens of people from these groups. They learned about their interests and media consumption habits, including which devices they used and when. Based on the interviews, the journalists created "personas," composites that reflected the users they would make coverage and engagement plans to serve.
Each newsroom needed to re-engineer its organizational and operational structures and work flows and to develop new digital skills.
But the initiative first sought to re-engineer staff attitudes about the role of news providers in the digital age, with particular attention to their changing relationship with potential digital audiences.
Over the course of 2013, KDMC led each newsroom committee through a process of developing franchise content plans by:
Analyzing available research, whether from Magid or other available sources such as Claritas PRIZM.
Determining target demographic groups that would be potential digital subscribers.
Identifying topics of high interest to the target groups where they were not satisfied with available news and information.
Interviewing more than three dozen members of each target group about their news needs and consumption habits, including which platforms they used and when and for what information.
Creating two personas – composites of the interviews - for each topic.
Developing franchise coverage and engagement plans designed to satisfy the news needs of the personas on the digital platforms they used.
KDMC facilitation and training was delivered through a mix of Webinars, on-site visits and coaching calls with editors and committee members. Training included: How to analyze and build on the research; digital literacy and strategy; steps in an effective coverage development process; social media strategy and multimedia best practices. KDMC also provided detailed guidelines for creating personas and producing franchise content plans.
Franchise topics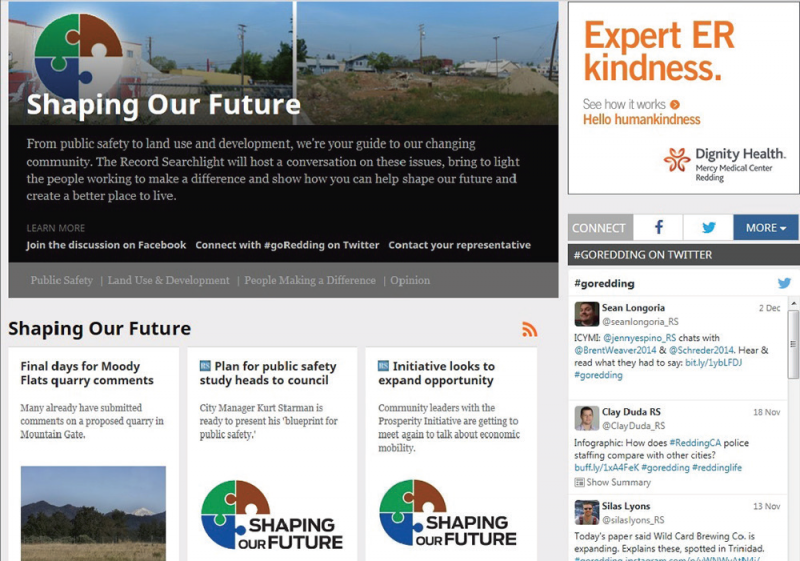 To varying degrees in different markets, general topics of high interest included the local economy and business, government and politics, crime and local schools, and things to do. The research often validated the four pillars, which were developed by former VP/Content Rusty Coats, with people showing high interest in breaking and watchdog news.
Some high interest topics such as technology, health and medicine were discarded as not highly local although they could be localized as the opportunity arose. High interest in the weather presented a conundrum. Clearly, newsrooms had to do a good job covering local weather. But it did not seem likely that their coverage would rise enough above what local television provided to be perceived in the market as a unique franchise.
The research pointed in a direction, but the topics were generic and open to interpretation. In each newsroom, with KDMC guidance, the staff committee members filtered the research findings through their knowledge of the local community to put a sharper, uniquely-local frame on each topic.
As well, Stewart and KDMC encouraged committees to consider whether their news organization could play a community leadership role in covering the franchise as one way of baking in engagement practices.
Each committee also drafted goals for the franchise, including business goals (such as driving subscriptions), community goals (such as mobilizing people), and influence goals (such as driving policy change). This step required newsroom staff to understand the total organization priorities, including the revenue/business goals, something often avoided by traditional news staff.
Similarly, if the topic had the potential to highlight any of the pillars or to drive creativity on specific digital platforms or on social media, it should be part of the discussion from the outset. The idea was to not only define topics but to start to figure out how topic coverage might drive newsroom advances on digital and social platforms.
For each topic, the committee identified two target demographic groups with a high interest and then drafted a short initial description of the topic.
For example, the staff committee in Treasure Coast targeted a female aged 35-54, with an interest in local politics, business and the outdoors. The second target was a man, age 55+ with an interest in the outdoors and who had adapted to digital devices. The local overlay from the committee yielded "Our Indian River Lagoon," a franchise that would highlight and, the committee hoped, enhance a debate about the fate of a significant local body of water at the intersection of environment, politics, and recreation.
The committee at the Redding Record Searchlight and Redding.com in northern California targeted a man and a woman each aged 34-54 who were interested in local government and the economy to create "Shaping Our Future," a franchise that would be an ongoing guide to and conversation about change in the community.
"Things to do," either in the form of entertainment or outdoor recreation, was a topic of high interest in nearly every market. Many of the newsrooms developed a version of it as one of their franchise topics, including the Corpus Christi Caller-Times/Caller.com in Texas. Targeting a woman 35-54 who might be looking for activities with her children, and a man, aged 18-34, who worked in the nearby energy sector, Corpus Christi's committee developed VivaCC, an entertainment franchise that would make heavy use of social media platforms.
Personas
The committees' next step was to create actual personas that reflected each of their two demographic targets. This was a highly challenging part of the process for the committees because it took them well outside their comfort zone and required a large time commitment.
Personas, widely used in user-centered design and marketing, are composites based on interviews with people who fit the demographic and topic interest target group. While they are fictional, they serve to make real the information needs and news consumption habits of potential users or subscribers. Though the concept was difficult for some newsroom leaders and staff members to grasp at first, it underscored the value of bringing consumer-first thinking to each newsroom team.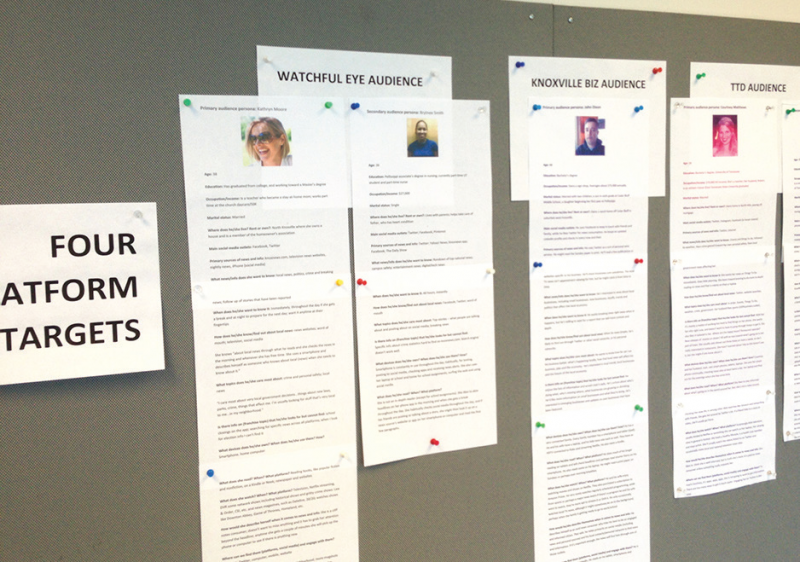 Personas capture details about the user and her family's lifestyle as well as how she finds and interacts with news coverage, and what type of coverage is highly relevant and engaging to her. For the franchise topic work, the personas also needed to include what topics the user was typically looking for and how she defined those topics, which often was somewhat differently than the newsroom might.
KDMC recommended that committee members develop a questionnaire and interview a total of 40 people for each target group. Committees were encouraged to complete the interviews over a period of about two weeks so they could create their composite personas while the information was fresh.
Finding people to interview took some creativity. These were not "man on the street'' interviews; the committees were looking for people in a specific demographic group with a high interest in a specific topic. Some potential interviewees could be found at predictable locations – a parent interested in local schools, for example, would likely attend school activities or be found at a local park. Some newsrooms put short surveys online and mined them for contacts in their target group.
Once they completed the interviews, the journalists met to create composites. Each persona was a page or more of information that included a name, photo, age, family status, job, where neighborhood and workplace locations, topics of interest, media usage at different times of the day on different platforms.
For example, Treasure Coast learned that the "Our Indian River Lagoon" target female aged 35-54 was checking her iPhone for news throughout the day, while the target man, 55+ was using several digital devices and spending a lot of time reading on his iPad.
In Redding, the two targets, aged 34-54, each cited social media platforms – one Facebook and one Twitter – among their main sources of news. Both used their phones heavily to access news.
Creating personas proved to be highly significant in the more successful newsrooms.
"The persona exercise had the most long term impact," Moore, the editor in Ventura, said. "We, like others, had presented readership data before. But now staff members had to gather the data themselves, had to interpret the data themselves and – most importantly – had to attach that data to real people. It was that step of attaching the data to real people that helped them connect with the readers for their franchise."
"The persona exercise was very important in our newsroom. I'd say its impact actually went beyond the franchise-topic discussion and contributed to overall culture change. More than we ever had in the past, we were talking in the newsroom about targeting customers," McElroy said.
"The hands-on work of finding and interviewing them turned out to be a huge deal. And continuing to discuss and stay true to them has done a lot to keep us on track," said Silas Lyons, editor at the Redding Record Searchlight and Redding.com.
Franchise plans
After they completed their personas, the committees revisited their topics and descriptions and some made revisions to reflect what they had learned.
For example, in Memphis, the committee working on a "Go Memphis" entertainment franchise had initially scoped the topic fairly traditionally – staff members created plans based on what they thought the audience wanted. They learned from the persona exercise that they had significantly underestimated interest in local food and dining. They reworked the topic.
Another team in Memphis created personas for people interested in government and politics, "InforMemphis." Team leader Kyle Veazey said the persona interviews showed him that the coverage needed to tap into an emerging civic connection among 30-somethings who wanted to know what their government institutions where actually doing to improve the city rather than focusing on more traditional, institutional coverage.
The Ventura committee went beyond the persona interviews to hone in on education coverage for "School Watch."
Kenneth Maryanski, who chaired the committee, said the persona interviews yielded a lot of good ideas – too many – and the committee had trouble prioritizing.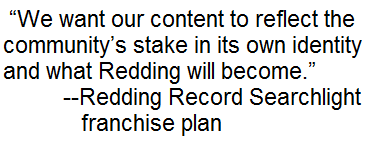 "We started discussing who would do what and how, and realized we could not do it all. It was newspaper thinking – trying to be all things to all people," Maryanski said. So they conducted an online survey asking the people they had interviewed and additional readers to rank fourteen content ideas.
"The most important message was that the respondents wanted investigative stories, news on school safety, school board news – hard news – not the soft stuff like listings and calendars, which take a ton of time and were things they already were getting from schools," he said.
As they moved into creating personas and planning franchise coverage, some committees divided into smaller teams, focused on a specific topic. At this stage, the working teams added members to broaden exposure in the newsroom, including journalists who would be covering the franchise but were not on the original committee.
The goal was to embody each franchise in a detailed plan or "operating manual" that would set out coverage expectations and record the committee work and reasoning, including the topic descriptions, goals and the personas and set the tone for the coverage. It was an important operational and accountability tool as well as a communications tool to share well beyond the team.
Planning proved highly challenging in many newsrooms because they traditionally have had cultures of reaction, which makes sense when news is breaking.
"Planning has always been the weakest link in traditional newsrooms," KDMC's Porter said. "Newsrooms traditionally treat 95 percent of what they cover as 'breaking news' while real breaking news represents less than 5 percent of the daily content. By planning ahead on how different elements of a franchise will be covered, resources are more effectively used to make sure the most valuable content is given priority."
"The content plan is the 'operator's' manual for everyone involved in the franchise coverage," Porter said. "By defining the franchise and its important elements of coverage from hourly to daily to long-term investigations, the newsroom isn't reinventing content every day."
Redding, for example, developed detailed reports for each of its two franchise topics that also set the tone for coverage.
For "Shaping Our Future," the plan described the background of the committee process and decision-making, included the goals and personas, and provided a detailed list of content items – not specific stories but commitments to complete certain types of stories on key community issues, on a daily, weekly, monthly or long-term basis. It also laid out engagement strategies, the roles of each team member, and what metrics the team will monitor to assess the effectiveness of its work.
At the beginning of the content section, the plan stresses mobile. "Both personas present the need for in-depth coverage that contributes to a greater understanding of issues but also presented in a way that's easy to digest and highly mobile."
Importantly, the Redding plan addresses the "voice" of coverage, highlighting a new way of framing the issue and the news organization's role.
"We want this topic to be inclusive – it's about our future as a community, not the newspaper telling everyone else what the future is or should be,'' the plan said. "We want our content to reflect the community's stake in its own identity and what Redding will become. That conversation should be grown organically with RS providing nutrients for it to grow. Ultimately, we'd like to host the debate about Redding's future."
Challenges
The process emphasized planning ahead, testing, iterating and changing, a process which continues today as individual newsrooms adjust and re-launch individual franchise topics. Further adjustments come as new tools, such as an updated digital content management system, are brought on line.
"It is not enough to set objectives, hold a meeting and see change happen. Without advance planning, behavior returns to the mean as soon as attention is focused on another area," Stewart said. "Building flexibility into the process yielded newsroom teams that are more comfortable adapting as they acquire new tools and skills."
The process itself was iterative; it was piloted in a single newsroom and lessons learned influenced the process for the next newsroom and then the next as the initiative unfolded.
It was not without challenges. Time and resource pressures as well as traditional habits led a few newsrooms to try to skip steps.
For example, committee members often wanted to get into operational matters too quickly – discussing story ideas before they had framed their topics and created their personas. A couple tried to simply rebrand something the newsroom was already doing as a franchise. A couple of other committees had trouble completing the persona interviews, only to waste time planning coverage in a vacuum.
Some committees struggled to produce a detailed, dynamic coverage plan. Some newsrooms had difficulty transitioning concepts from the planning team to the working team.